A unique sensory experience in every sip
Immerse yourself in the seductive palette of flavors of Sine Die. This rosé wine, made from Grenache grapes grown on our estate, offers an unparalleled sensory experience. Its salmon pink color will captivate you, while its aroma of anise, sour strawberry and grapefruit will transport you to a world of delicious sensations. In the mouth, you will enjoy its freshness and juiciness, with a persistence that invites you to savor it slowly. Sine Die is a perfect choice for those seeking a unique sensory delight, bringing you unforgettable moments full of pleasure and discovery. An unparalleled wine journey with this exceptionally elegant and seductive wine.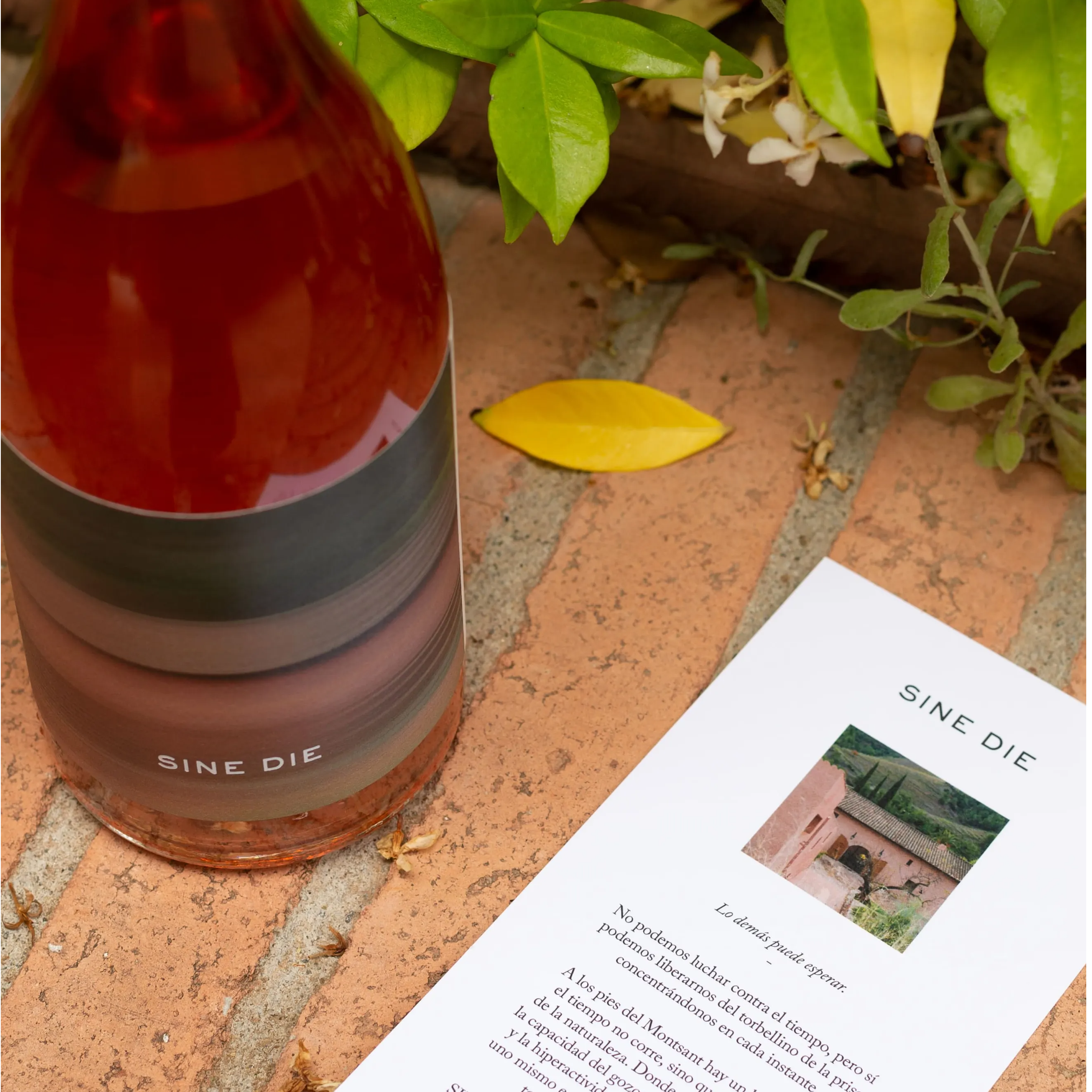 ---
The art of winemaking with passion and tradition
At Terra Dominicata, we pride ourselves on following traditional methods in the production of our wine. Each bottle of Sine Die is the fruit of the dedication and passion of our winemakers, who carefully select Grenache grapes from our highest and freshest vineyards. Using sustainable practices, we respect the environment and create wines that reflect the authenticity of the Priorat. With Sine Die, you will appreciate the excellence of our own winery and the historical legacy we carry with pride.
A wine made with traditional methods with which you can conquer time, or at least postpone it. Its label wants to show us, with an optical effect, that time does stop in Terra Dominicata. And that the rest can wait.
---
Limited edition: a treasure for wine lovers
Sine Die is a wine jewel that will only be available in a limited edition of 500 bottles. Each one of them represents the exclusivity and quality that distinguishes us. From the design of its label, with an optical effect that symbolizes the stopping of time in Terra Dominicata, to the careful elaboration of its contents, every detail has been thought of to provide you with a unique experience. Don't miss the opportunity to purchase this special edition and enjoy unforgettable moments with Sine Die. Buy your bottle today and let yourself be carried away by the magic of Priorat wine.